Booking awesome Fort Walton Beach house rentals
Sandwiched between the pirate-themed margarita bars of Destin and the cotton-tinted sands of Okaloosa Island, this lived-in city is a top base for getting around some of the Panhandle's most lauded beaches. Use this guide to help you book the very best Fort Walton Beach house rentals out there.
Where to find your Fort Walton Beach house rental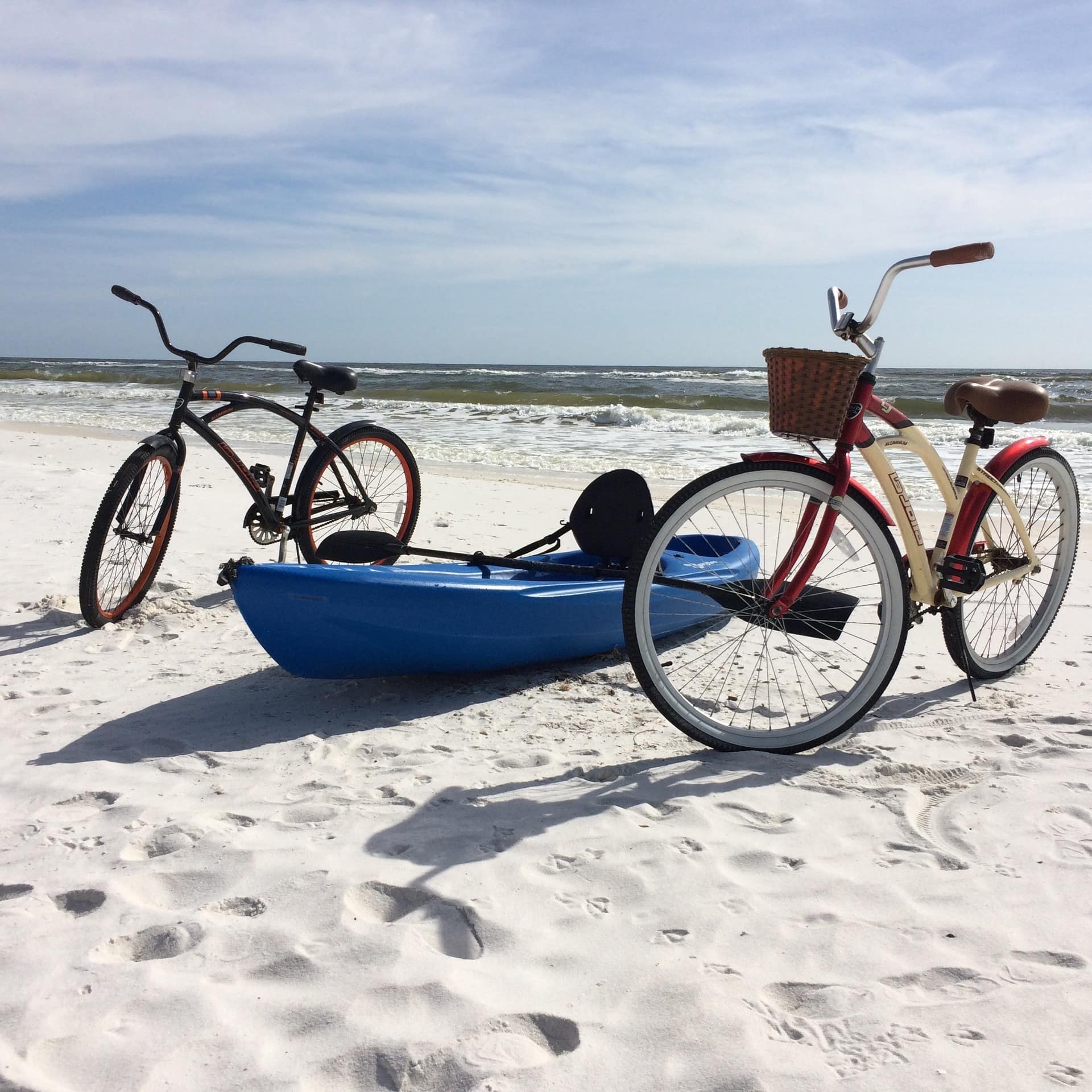 From the soft, sloping sands of Okaloosa Island to the remote pockets of pines and dunes down Santa Rosa Island, this guide takes a look at some of the most interesting neighborhoods and areas where you could unearth your perfect Fort Walton Beach house rental.
Want to be the first to leave your footprints in those famous Floridian white sands each morning? Okaloosa Island is surely the place to find a Fort Walton Beach house. A barrier island that runs along the Mexican Gulf to the south of town, it's laced with a stunning run of coast. It's also a buzzy and vibrant spot, with seafood grills, fishing shops, and opulent condo complexes that burst with pools and palms.
Fort Walton Beach itself combines sprawling strip malls and a lively downtown core to offer a more traditional small-town feel. Of course, all the vacation rentals here are still under 10 minutes' drive from the glowing edge of Okaloosa on the Gulf of Mexico, and they provide access to the lesser-known inlets and beaches on Choctawhatchee Bay.
Follow Okaloosa to the west and you'll soon enter Santa Rosa Island. Notice how much of the large-scale development drops off, leaving a sprinkling of tall grasses and scented pine trees before wavy dunes. The odd lonely cottage in these parts means there's usually somewhere enticing for a truly secluded escape with someone special.
Dolphin-watching excursions, swashbuckling summer pirate festivals, beachwear shopping – there are oodles of things that you could need those dollars for on a vacation to the Gulf Coast. Use these hints to keep costs low when it comes to booking Fort Walton Beach house rentals.
Booking early is key to low rates in summer
Everyone from families to college breakers jet down to Fort Walton Beach when school's out for the summer. If you're planning on joining the party, it might be wise to reserve your stay as early as you can. That will mean having the pick of the best-priced homes, but also the choice of the finest pool-ready condos and villas before they get booked up.
Shh – the locals of Fort Walton Beach like to keep fall a secret. Crystal-clear skies and calm waters are often the norm on the Emerald Coast come September. But it's also a time when vacationers head back home. The result is a sudden drop in rental rates, which means you could secure that dream Fort Walton Beach house rental for as much as 50% less than in June.
The real draw of Fort Walton Beach house rentals is that they get you to the heart of one of Florida's best-loved coastlines. With Destin to the east and wild Santa Rosa Island to the west, you should never be short of places to go searching for a pad if prices aren't right closer to the center.
Fort Walton Beach house rentals – choosing yours
Use this list of tips and insights to narrow down your focus and get the Fort Walton Beach house rental that's perfect for you. The beaches await…
A pad with a pool
With temperatures creeping up to over 80 during the summer, you might just want to snag a stay that's got somewhere to let you cool off. Cue all Fort Walton Beach house rentals with swimming pools. They come in all shapes and sizes, whether you want a splash pool to call your own or something shared with other travelers right next to the ocean.
A condominium in Fort Walton Beach
There's plenty to be said for choosing a condo stay for that vacay to the Florida beaches. These are the ultimate lock-up-and-leave rentals. You'll have your own private space – a kitchen, living room, balcony. But there will also be shared facilities, like swimming pools, game rooms, and even on-site bars.
Oversized Fort Walton Beach house rentals
Let the good times roll with the whole crew down on Okaloosa Island by zeroing in on Fort Walton Beach house rentals that have enough space for the family. There are homes with three or four separate bedrooms, so there's plenty of space for everyone to relax after days on the beach. They also tend to come with large self-catering kitchens and big outdoor living spaces.