**Beautiful Winter Views** 4 BR Log Home, Amazing View, Hot tub, Game Room
Property overview
Cabin

4300

sq. ft.

Sleeps: 12

Bedrooms: 4

Bathrooms: 3

Half Baths: 2

Min Stay: 2–7 nights
Premier Partner
Good for families
Hot Tub
Pool
Air Conditioning
No Smoking
Beautiful log cabin with 4 bedrooms and amazing mountain views
Tour this property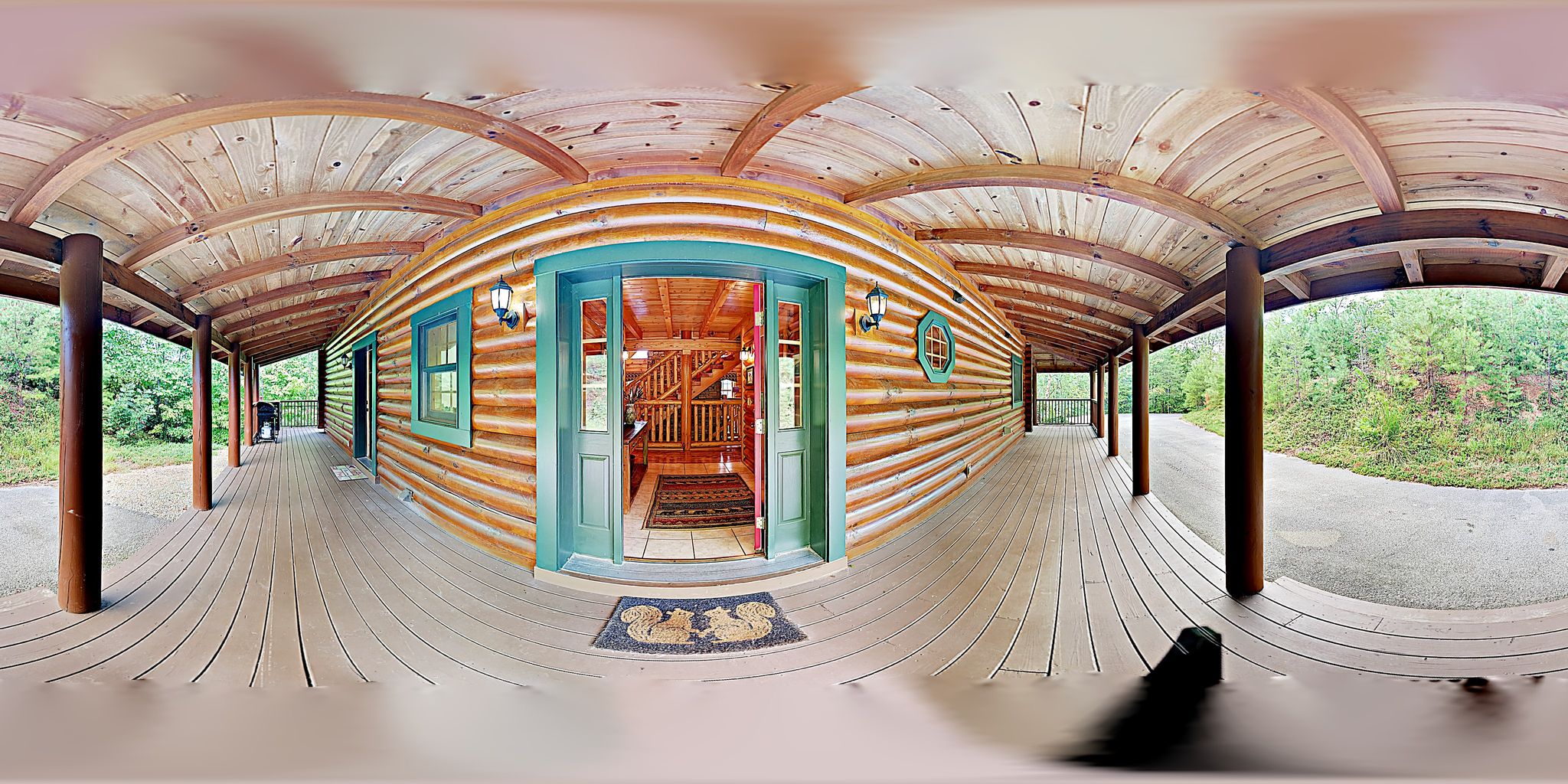 Owner
Ask a question
Laura Beaman
Member Since 2017
The owner or manager of this property consistently provides great experiences for their guests.
About Laura Beaman
The Hoyt family built this cabin in 2006 and live in Virginia. The Beaman family was looking for a cabin and found the Hoyts and the two families decided to co-own the cabin together in 2017. The Beamans (David and Laura, Stella, Cora, and Larson) live in Knoxville, TN, and manage VRBO. Both families bonded over their love for the Lord and spending time together as a family.
Laura Beaman purchased this Cabin in 2006
Why Laura Beaman chose Gatlinburg
The Knotty Squirrel is a true log cabin and has amazing views of the mountains. It is secluded enough, yet close to so many activities.
Amenities
Featured
No Smoking

Satellite or cable

TV

Washer & Dryer

Children Welcome

Internet

Air Conditioning

Fireplace

Hot Tub

Parking

Heater

Swimming pool
Bathrooms
Bathrooms: 3, Half Baths: 2
House Rules
Check-in: 4:00 PM
Check-out: 10:00 AM
Children allowed
Please note that there are stairs and porches
Minimum age of primary renter:25
Max guests:12 (sleeps up to 12 adults)
Cancellation Policy
100% refund if canceled at least 60 days before arrival date. 50% refund if canceled at least 30 days before arrival date.
Reviews
1–6 of 30
Wonderful weekend in the mountains!
We were looking for a quiet weekend in the mountains and this property was great! Beautiful views, large cabin, quiet location, wonderfully decorated and did I mention the beautiful view! We throughly enjoyed our stay and it was just what we were looking for! Thank you for sharing your property with us! Oh yea, what a beautiful view of the changing leaves in the smokies!
Very Enjoyable
Knotty Squirrel is an absolutely beautiful cabin. And the views! OH MY! Gorgeous! It was very clean and well-equipped. we especially enjoyed the Belgian waffle maker! We checked the gas grill on arrival and found the tank to be empty, but Doug graciously brought a full tank the next morning. The biggest negative is the fact that there is no insulation between the floors for sound, but we are not a really loud group, so it wasn't a big enough problem for us not to come back! The bed in the queen suite upstairs was a little hard. A larger refrigerator would be a plus, too. Other that that, we LOVED it! We are already making plans to come back next year! Thanks, Laura for a wonderful stay in your cabin!
Amazing views
Our stay at the cabin was beyond amazing. We were not expecting to have such great views of the mountains so that was a huge bonus. Sitting on the deck was our favorite part. It was beyond beautiful! Everyone had a lot of fun in the basement with all of the games as well. The house fit our family perfectly. I only wished i would have brought a baby gate since there is two sets of stairs and i have a toddler (my fault, not there's). It's about a 30 minute drive into town (which we were aware of) but it's worth it since you are tucked away in the mountains. Our only complaint (very minimum) was dirty dishes left in the cabinets and the house was a little dusty. We told the home owner and she mentioned buying different soap for the dishwasher. The house is stocked with all the kitchen basics you would need which came in handy. Overall the cabin was very clean and you can tell they maintain the property very well. Our family agreed this was our favorite vacation spot yet. We would absolutely come here again!
Just like the pictures!
2490 characters is not enough. Spacious cabin in a peaceful location. Owner was very helpful with answering my questions before booking. The key was not in our check in packet; property manager had someone run it up.
The cabin is quite large-great for our extended family.
Nice large dining table big enough for everyone to gather.
Loved the wrap around deck with the fantastic view. Grilled several nights, so we didn't have to fill the house with heat or food smells.
The game room was fun.
To be honest and thorough here are some issues encountered:
Out of the way. Takes 30 minutes to get anywhere and nearly 2 hours to get to the airport or into Knoxville. It became tiresome to drive minimum 30-minutes everyday.
Lots of overlooked cleaning details: tons of dust on the ceiling fan blades, dirty floor edges, sheets on the bunk bed were either dirty or extremely dusty, with the comforter thrown over. Found a pill on the bedroom floor, that made me uncomfortable because we have a tot.
Lot of dead insects in the game room due to perimeter insecticide. During our stay the extermination company came out and sprayed all over the deck, so we had to make sure no one went out barefoot.
Trash has to be brought down to the rental office so you're either making multiple trips to drop off trash or hauling a vacation's worth of old trash in your vehicle. There was an additional trash fee if any was left behind. Someone is coming up to clean the place so why don't they work the trash into that?
Kitchen had many items, but little organization. All the knives were extremely dull and/or broken; we ended up using our pocket knives. White kitchen sink is extremely stained and scratched up.
There should be a guide, like in a hotel room, with instructions for the spa tub, wifi, TV, etc. Don't assume that guests will just be able to figure it out.
Overall, it was a great option for a larger group. The value and ease definitely surpass going the traditional hotel route. We liked the cabin and did enjoy our stay. I would not say it's 5-stars though, more like 3.5. It was nice, like staying at a friend's place or grandma's house.
An aside, I would not rent from this management company again. Check out instructions consist of several lines of "Do this or you'll be charged an extra fee." Considering you're paying a deposit, a cleaning fee, a handling fee, insurance, etc., it's unnecessary, threatening, and sours the whole experience.
Owner's Response:
Hi Melissa,
I appreciate your letting me know about your trip. I would like to address all of your issues. When I first read your review, the first thing I did was to personally speak to the owner of the management company. He did not have a record of any issues reported during your stay past the first incident of not receiving your key. For that I apologize. I am sure that was inconvenient.
In my check-on email, I have my personal phone, the owner of the management company's cell phone, and of course my email. I ask that you let me know of any issues during your stay, so I am surprised that this is the first I have heard of anything. I can't fix something if I don't know about it until a few weeks later.
I have scheduled a deep cleaning of the cabin because of your feedback. I was there the week prior and did not see any of the things you referenced. I was told the exterminator who sprayed while you were at the house was let go for that reason. Sorry about that.
I'm very involved at our rental property and we visit frequently. We have a management company so that small problems can be handled quickly and poor reviews prevented. I would have been happy to refund your cleaning fee (and I still can, if you wish) had I known.
The location is clearly shown on a VRBO map. Downtown Gatlinburg is 20 minutes by car. I'm not sure where the other places you were going are, but I cannot change or apologize for the location since we love the peace and quiet and gorgeous mountain views. Knoxville (where we live) is 1:20 at the most by car, but perhaps traffic could have affected that travel time. I can check on the kitchen organization, but when other guests place items in the cabinets, and can get messy. I will see about getting some new knives.
We love our management company, but communication is key to an overall good experience, so they can't fix what they aren't aware of at the time. I will add to the check-in email that the management will come get the trash if needed. We have tried different things here, but inevitably the bears get into the locked cage if trash is not taken down promptly, creating a bigger mess. There was no deposit paid, just the property damage protection, cleaning fee, and rent. VRBO does charge their own service fee which they keep. The only fee charged is $50 for leaving trash in the house. There are no threats.
We take pride in our home, so when we receive a less-than-stellar review, I am willing to change to help people have b
Great time had by all!
We enjoyed the location of the cabin and waking up to amazing views of the mountains each day. Our family had so much fun at the cabin and the surrounding areas, especially visiting the Smoky Mountain National Park several times.
Owner's Response:
Thank you so much for taking your time to write us a great review! We'd love to have you back.
Wonderful trip
The view from the house was amazing we hope to come back again. I highly recommend the Knotty Squirrel.
Owner's Response:
Thank you so much for taking your time to write us a great review! And, yes, please come back soon!
1–6 of 30
Map
Please note that while our cabin is located in Gatlinburg, it is about a 20 minute drive to the downtown Gatlinburg strip of shops. We love the location because it provides peace and quiet with amazing mountain views that cannot be beat.